Flower Crosses Croydon
When it comes to celebrating the life of a loved one, there are many ways to do so. One popular way is by creating a flower cross. A flower cross is a beautiful and touching tribute that can be placed at a funeral service or graveside memorial.
At Lisa's Florist, we understand the importance of creating a beautiful flower cross that captures the essence of your loved one. We work closely with you to choose the right flowers and create an arrangement that is both meaningful and beautiful.
If you are interested in learning more about our flower cross services in Croydon, contact Lisa's Florist today! We would be happy to answer any questions you have and help you create the perfect tribute for your loved one.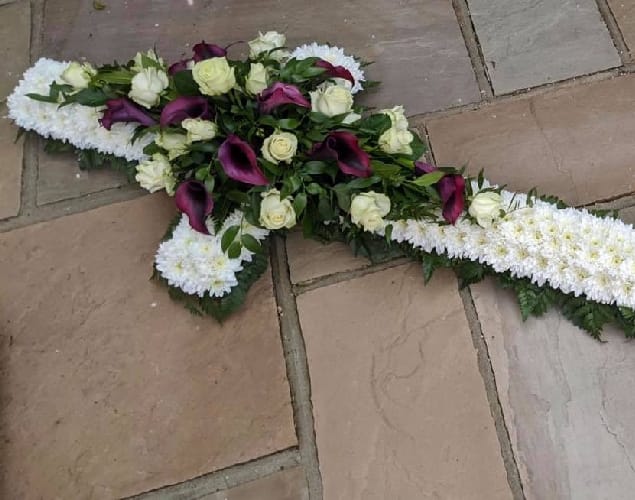 Testimonials from our customers
My aunt loved her flowers. I found you all very friendly, approachable and efficient. My aunt was 75 which she said was her special birthday. The flowers really cheered her up and I will be back to you all again. Thank you so much.
Living in Dublin and wanting to send a bouquet, I Googled local florists in Shirley. The lady I spoke to was very helpful and helped make the whole transaction seamless. To my delight, even though my order was placed at 12:15 it was delivered same day. We got a beautiful text saying the bouquet 'was stunning' . Thank you for being so helpful and doing an excellent job.
Very happy with my purchase [of Romantic Bouquet and Birthday Balloon], thank you.
My family would like to thank Lisa and all the team for the amazing floral tributes for our family member's funeral last week . The flowers were outstanding, each and every one of them. The kindness and sympathy you all showed to us at this very sad and difficult time. Nothing was to much trouble, we did request some very unusual tributes and they were just amazing thank you all so much xxxx
Hi, you have just delivered flowers to our house in Wallington. Just wanted to compliment you for the bouquet. Marvellous. Many thanks.
You guys rock. I was so pleased with your service. Delivered on time. Excellent. I am pleased. She was so surprised.
Just wanted to thank you for the Palace shirt, for my dad's funeral yesterday. It was above and beyond my expectations, the same goes for my son's football. You really did an amazing job. On behalf of myself & family thank you very much.
Exceptional service. Delivered a same day request for a small delivery fee. I would highly recommend Lisa's Florist. Amazing service and value.
Just wanted to say thank you so much for arranging the flowers for mum's funeral yesterday. They were beautiful and just what, eventually, I was trying to explain that my brother and I wanted. The casket looked lovely and it was obvious you really care about your customers.
Just wanted to say thank you for the beautiful bouquet of flowers from my lovely son. He has bought me 6 months worth of flowers as a Christmas present, he always buys his flowers from you and they are consistently better than anyone else's.
Just wanted to say a huge thank you for mum's flowers, they were beautiful and everyone remarked.. my daughter took a few out which my sisters and I took home to press.
I just wanted to drop you a line to say thank you for preparing such beautiful flowers for my mum for us saying goodbye. They were perfect and just what we wanted and what my mum would have loved.
My father was put to rest but the flowers, especially the cat which everyone loved took a lot of the pain away they were fantastic 10 out of 10 thank you guys for making the day such a special one.
Lisa has been very helpful, supplying me with beautiful plants for my garden, even delivering them to me.
Ordered flowers for my friends birthday she was over the moon. Service was amazing and staff friendly. Highly recommend.
I rang this florist at 12.30pm on Mothers Day. I asked for mother's day flowers (lilies) at such late notice. The wonderful florist made a beautiful bouquet! It made my mum's day and I would highly recommend this florist for their amazing customer service!
I have ordered bouquets from Lisa's a number of times and they are always friendly and helpful. They will go the extra mile for delivery in the right circumstances. The flowers are always beautifully presented and reasonably priced. I would definitely recommend them.
Me and my family, have always used Lisa's for all different occasions. They were so helpful and with the little extras added, the flowers were stunning and I can't thank you enough, for making a very upsetting day, feel that little bit more bearable.
EXCELLENT SERVICE!!!!!! I would 100% recommend Lisa's Florist! The staff was amazing by sorting me out with a bouquet at such last minute on a Sunday and delivered on the same day!
Rang and asked for a special commission, they were all so very very lovely and efficient. Couldn't ask for a better service and in a short time. The flowers were absolutely fantastic and I couldn't be happier.
Had the most beautiful flowers delivered to my friends yesterday. They were absolutely thrilled with them. Will definitely be using Lisa's Florist again and can highly recommend their great service. Many thanks.
I was so thrilled with the flowers for my father's funeral. I chose red, yellow and green as these were my father's military colours. They were so fresh and delivered so promptly. Considering the climate we are enduring currently I was blown away by them. So much so I couldn't bear to leave them behind so brought them home with me to enjoy for longer. Thank you.
I would highly recommend Lisa's florist. Excellent service and beautiful flower arrangements. We got exactly what we hoped for. Thank you.
The flower arrangement was beautiful, I ordered the flower arrangement over the phone and they where so helpful and made you feel at ease at such a sad time. I would definitely recommend Lisa's Florist. The other mourners commented on the flowers and how beautiful they were. Thank you again for all your help and advice.
What Are Flower Crosses?
A flower cross is a type of floral arrangement that is in the shape of a cross. They are often used as tributes or memorials for loved ones who have passed away. Flower crosses can be made with many different types of flowers and can be customised to reflect the personality of the person being honoured.
Not strictly for funerals, many of our clients buy flower crosses to decorate the final resting place of a loved one on special occasions such as anniversaries and birthdays. Others like to keep their loved one's burial site decorated with fresh flowers, and our flower crosses are perfect for this.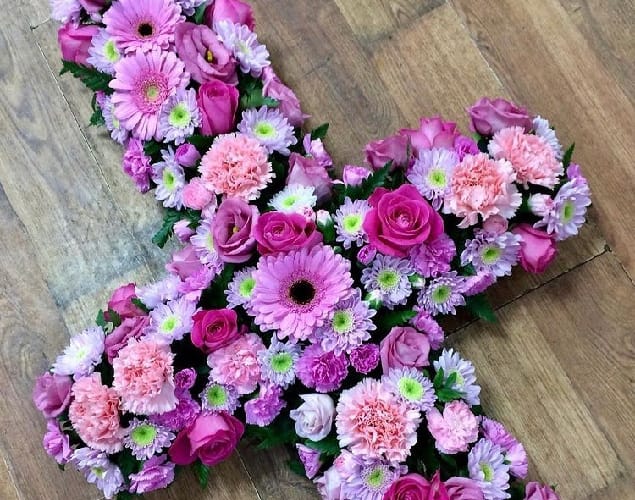 Remember and honour a loved one
A flower cross is a beautiful way to remember and honour a loved one—however you choose to do so. There are many different types of flowers that can be used to create a flower cross. At Lisa's Florist, we work with a fine selection of flowers that are perfect for creating a cross to meet your needs.
The type of flower you choose will depend on your personal preference as well as the meaning you wish to convey. We're happy to work with you to make sure your order is exactly what you want.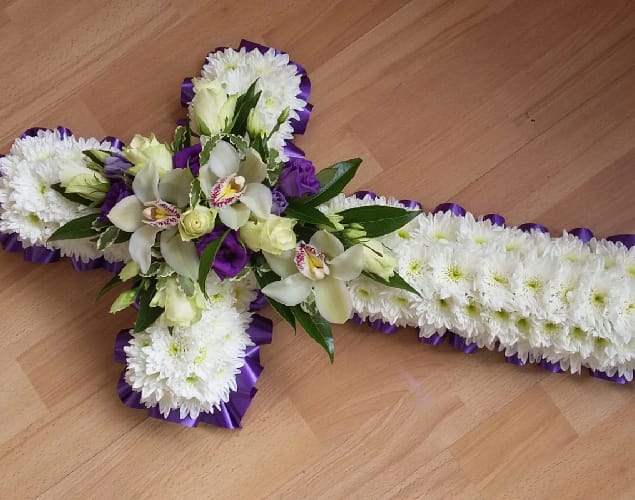 Visit Lisa's Florist Today
If you are interested in learning more about our flower cross services, contact Lisa's Florist today! We would be honoured to help you create a beautiful tribute for your loved one.